Designed by: Sidney DeW. Herreshoff
The Gemini is a wonderful design for light to moderate wind conditions. Her light weight, planning hull provides for an exhilarating sail. The twin leeboards not only provide better performance but also create more cockpit space than a typical centerboard boat because the centerboard trunk isn't taking up space and creating an obstacle to step over. She sails best with two but easily accommodates 5 adults. The Gemini is a breeze to launch and rig at a ramp.
* RETIRED DESIGN NOTE Retired Cape Cod boats were built at one time, but due to a lack of owner support have been removed from regular production. The fiberglass molds to build these boats remain at Cape Cod Shipbuilding Co. but custom replacement parts may not be readily available. A retired boat could be built, but a fleet order would need to be placed to bring the molds into the shop.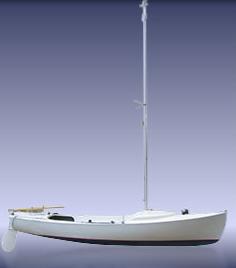 Specifications
Length Overall
16' 1"
Length Waterline
14' 9"
Beam
5' 7"
Draft Hull
7"
Draft (boards down)
40"
Sail Area
140 sq. ft.
Weight
440 lbs.

Download a specification sheet.
New Boat Options
Gemini..........Request Quote
Name painting & delivery also available
Prices subject to 6.25% Massachusetts Sales Tax, if applicable
Prices subject to change without notice